WEBINAR
Market Expands for E-Grocery Delivery Players
In Partnership with Supermarket News
In this on-demand webinar recording, Agilence partners with Supermarket News and industry professionals to discuss the latest trends in e-grocery delivery.
Grocery e-commerce providers like Instacart and Shipt have seen sharp growth in online transaction share and have been expanding their businesses, both pre- and post-pandemic. Last-mile delivery players DoorDash and Uber Eats, among others, also have recently jumped into the fray.
This webinar will discuss the pros and cons of partnering with these companies and the ongoing expansion of these e-commerce specialists in the retail grocery arena.
What You'll Learn From This Webinar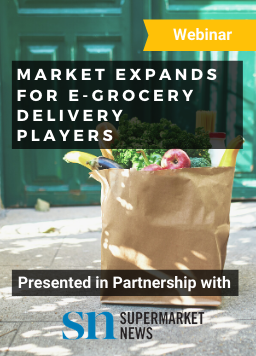 Speakers:
Tory Gunelach - Senior Vice President of Retail Insights at Katar Retail
Bill Bishop - Chief Architect at Brick Meets Click
Pedro Ramos - Agilence's own VP of Sales