ON DEMAND Webinar
Democratize Your Data: Overcoming Internal Information Silos
View the recording by filling out the form on this page.
The business intelligence landscape is going through a tectonic shift. The days of the generic BI and reporting tool that only services one department are dwindling. Today, organizations are looking for a stronger ROI from their analytics investments and much of that starts with teams leveraging a single vertical-focused BI platform.

Can you do more with less efficiency? The answer is YES, but it all starts with creating a data-driven culture within your organization.
What You'll Learn From This Webinar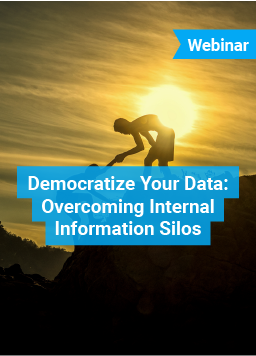 In this webinar, you'll learn:
The shift from siloed business intelligence to enterprise-wide analytics
How to transform from Data Analyst to Data Evangelist
The step-by-step process to data democratization
Use cases from real companies that trained multiple departments to leverage one powerful BI platform